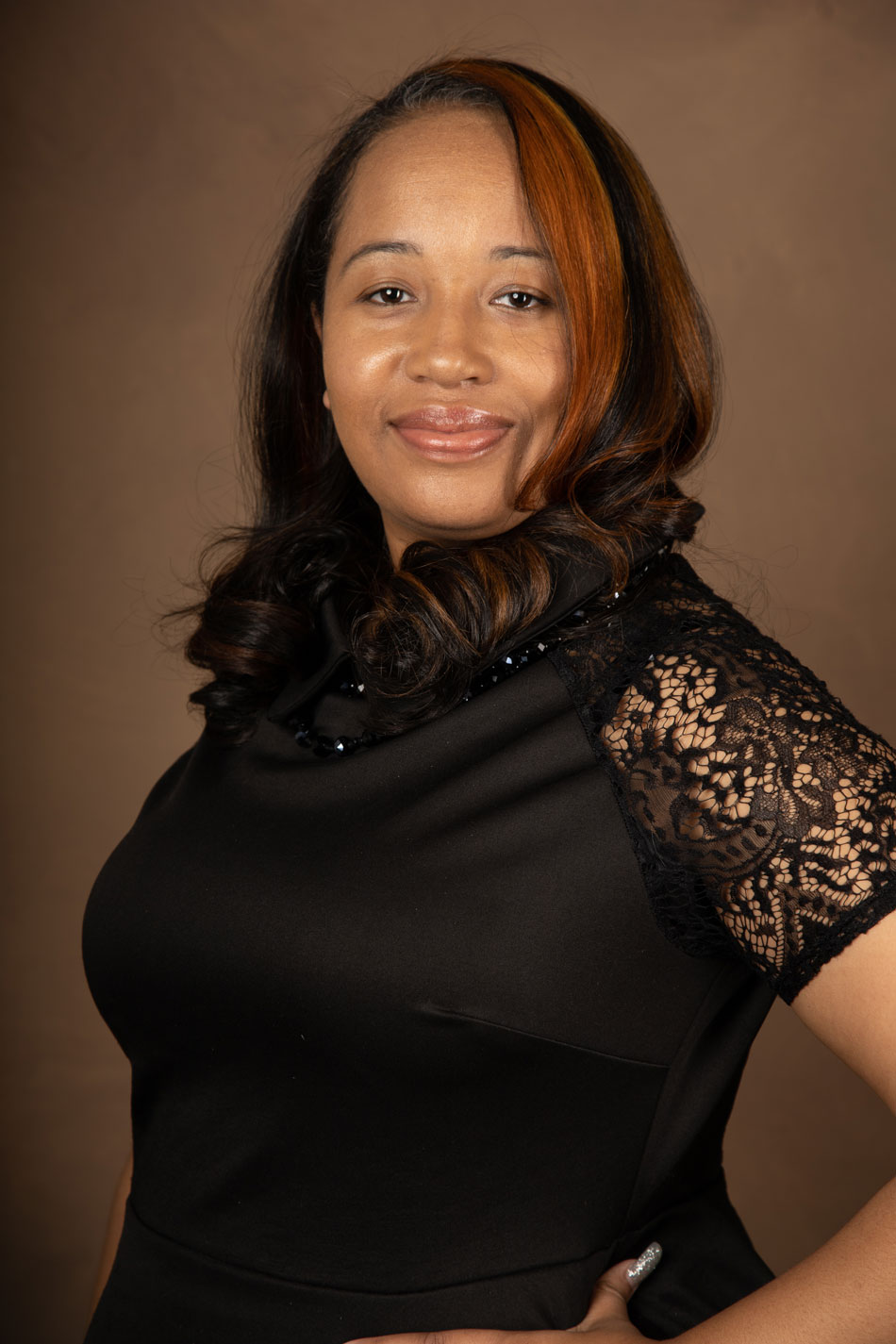 Sherina D. Travis was born in Philadelphia, PA to Deacon Floyd "Dennis" Mason and Missionary Cynthia Mason.  She attended Philadelphia public schools were she graduate from Samuel Felds High School.  She later matriculated to West Chester University where she graduated with a bachelor's degree in education with emphasis in math.
Spiritually, Sherina grew up at Philadelphia Way of the Cross Church under the leadership of her grandparents: the late Bishop John E. Williams, Sr. and Mother Cecilia Williams.  There she was baptized and served in many capacities.  While in college, she became a member of the West Chester University Gospel Choir.  During this time she was baptized with the Holy Ghost at Christ Haven Pentecostal Church under the leadership of the late Bishop William F. Todd.  Before graduating from college, Sherina would serve as vice president of the gospel choir, lead a campus bible study, call Virtue, and be instrumental in the campus wide revival that saw over 100 students baptized in Jesus name and 50 filled with gift of the Holy Ghost.
While in college she met and married her soul mate, Bishop Travell Travis on December 30, 2006.  Soon after marriage, they were thrust into higher positions of leadership as Bishop Travis would be elected IYFC President in 2007 and in 2009 they established City of Refuge Way of the Cross Church in Richmond, VA.
Sherina serves City of Refuge as the founding member and first lady.  In addition, she serves as YFC President, Kid's Academy Coordinator, missionary, trustee, praise team and choir member; all while serving in various other ministries and committees in our church.  For the IYFC, Sherina has served on the registration team and as recreation coordinator, IYFC 2nd VP executive assistant and currently serves in her own right as coordinator for the IYFC Daughter's of Destiny, member of the scholarship committee, essay and oratory contest committee, and member of the altar workers ministry. In 2019, she was elected IYFC 2nd Vice President – the first female to ever hold this position.
Professionally, Sherina began her teaching career with University Instructors as a math specialist for 5 years serving various schools in the Hampton Roads community.  For two of those years, she was assigned to Lakeview Elementary School in Portsmouth where she was able to help 6th grade students, primarily from low-income and minority families, to achieve 87% pass rate in 2012 and 96% rate that year on the Virginia SOL Test.
Currently, Sherina is employed a John Rolfe Middle School in Richmond.  During her 3 years at Rolfe, she has served as math department chair, 7th grade math team lead, 7th grade STEAM coordinator and representative, district curriculum writer for Henrico County, new teacher mentor, and workshop presenter.  One of her most notable accomplishments was being the visionary and coordinator for the "Amazing Race" at White Oak Mall in 2019.  This event linked the school and the community in hands on exercises and activities that made the classroom come to life in the real world.  To date over 21k people have viewed her video and many have invited her to train their teams on how to implement a similar program for their school.
Since beginning her teaching career, Sherina has furthered her own education.  In 2014, she graduated from Liberty University in Lynchburg where she received a Master's degree in Secondary Education with specialization in K-12 math.  That year, Sherina was accepted into the Kappa Delta Pi International Honor Society in Education while maintaining a cumulative GPA of 3.8.  In 2018, Sherina graduated again from Liberty University with an Education Specialist (Ed.S.) degree in Curriculum and Instruction, Middle School Math.  Presently, Sherina is pursing her doctorate degree in educational leadership (Ed.D) with an anticipated graduation date of 2021.
Sherina is able to juggle her responsibilities as a teacher, student, and first lady while raising three wonderful girls: Deonna (10), Janiyah (9), and Amiyah (1).  In addition, she has been a devoted wife and has faithfully travelled with me to every national meeting and speaking engagement around the country during my 12 years as IYFC president.  To date, together, we have visited over 95% of the churches in the WOTCC.