Elder Travell Travis, Esq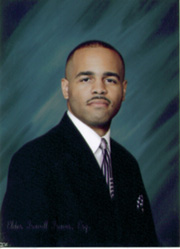 Elder Travell Travis is an anointed young man who has been commissioned by God to preach the Gospel of Jesus Christ. He is dedicated to ministering to the whole man of every man regardless of their race, gender, age, denomination, or economic status.
With conviction and compassion, Elder Travis urges the unsaved to turn to God and encourages the saved to hold on to God in anticipation of the imminent second coming of Jesus Christ.
As a college professor and licensed attorney, Elder Travis also inspires and motivates young and old to pursue their God-given destiny and fulfill their purpose in life.
Indeed, Elder Travis has received from God "grace and apostleship to promote obedience to the faith and make disciples for His name's sake among all the nations." (Romans 1:5 AMP)
From an early age, Elder Travell Travis has devoted his life to God and the people of God. Since that time the Lord has blessed him both spiritually and professionally.
Elder Travell Travis was born January 17, 1978, in Martinsville, Virginia, to Cassandra Johnson Travis and the late Perry Anglin Travis. During his early years, Elder Travis came to the knowledge of God at the Saint James Holiness Church in Fieldale, Virginia, under the leadership of the late Bishop James T. Agnew, Sr.
In 1987, at the age of nine, Elder Travis gave his life to Christ and was baptized in Jesus Name at the Shiloh Way of the Cross Church in Martinsville, Virginia, by the hand of then Elder Earley Dillard. In February 1991, at the age of thirteen, Elder Travis was filled with the precious gift of the Holy Ghost during a National Youth Christ Winter Jubilee.
At age thirteen, Elder Travis began working with the National Youth for Christ. In June 1991, he was elected Vice President of the Intermediate Youth and was elected President of the Intermediate Youth in 1993. He held the position of Intermediate Youth President for seven years.
During that time, Elder Travis graduated with honors from Fieldale-Collinsville High School and enrolled in college at the University of Virginia. While there Elder Travis sat under the ministry of Bishop Rufus Hayes at the Charlottesville Church of Christ (Bible Way World Wide) and sang with university gospel choir, Black Voices. On April 5, 1098, Elder Travis gave the first sermon in his ministry at the Charlottesville Church of Christ. In May 2000, Elder Travis graduated from the University of Virginia with a Bachelor of Arts degree, with a double major in History and African American Studies, and a minor in Religious Studies.
In 2000, Elder Travis was elected 2nd Vice President of the National Youth for Christ. As 2nd Vice President, Elder Travis was responsible for the Intermediate Youth for Christ, Membership, Hospitality, the National Newsletter, and the National Scholarship Program that he helped establish in 2003. In 2007, Elder Travis was elected president of the National Youth for Christ and currently holds this position.
On August 6, 2000, Elder Travis returned home to Martinsville to give his initial public sermon at the Shiloh Way of the Cross Church. His sermon was entitled "I'm Getting Ready to Close, are You Ready for the Rapture?"
In fall 2000, Elder Travis enrolled in law school at Howard University in Washington, DC. During this time he had the opportunity to serve at The Way of the Cross (Mother) Church and sit under the ministry of Bishop Alphonzo D. Brooks. In May 2003, Elder Travis graduated from Howard University School of Law and is admitted to practice law in the Commonwealth of Virginia and the District of Columbia.
After graduating from law school in 2003, Elder Travis moved to Hampton, Virginia to take a position with the Hampton University School of Business as an assistant dean and professor of entrepreneurship and business law. For six years, while in Hampton, Elder Travis continued to serve as an associate minister at his home church, Shiloh Way of the Cross Church, in Martinsville, Virginia, under his father in the gospel, Bishop Earley Dillard. In addition, Elder Travis served as an affiliate minister under District Elder Carl Miller at Gates of Praise Way of the Cross Church in Hampton, Virginia, and under Bishop James Jackson at Living Waters Way of the Cross Church in Newport News, Virginia.
While employed at Hampton University, Elder Travis opened the Law Office of Travell Travis, P.L.C. on November 1, 2005. The law office is a general practice law firm that represents local residents, churches, civic organizations, and small businesses in matters such as business law, church law, and criminal law. Elder Travis has been invited to various churches and conferences to do seminars on succession planning, clergy malpractice, faith-based organizations, and entrepreneurship.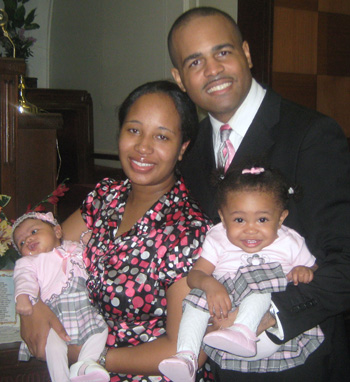 On December 30, 2006, Elder Travis married the former Sherina D. Mason (granddaughter of Bishop John and Mother Cecilia Williams) of Philadelphia, Pennsylvania. He and his wife currently reside in Hampton with their daughters Deonna and Janiyah.
In 2008, Elder Travis co-founded with his wife, Ambassadors for Christ Ministries, Inc. The mission of AFC is to declare and demonstrate the gospel of Jesus Christ around the world through education, evangelism, and service to the community. Today, AFC serves as the evangelistic ministry of Pastor Travis and Lady Travis and as the outreach ministry of City of Refuge Church.
On June 28, 2009, following the conclusion of the 65th Holy Convocation of the Way of the Cross Church of Christ International, Elder Travis became the founder and pastor of City of Refuge Way of the Cross Church in Richmond, Virginia. Starting with only his wife and two daughters, in a short period of time, the Lord has added to the ministry and blessed it tremendously.
Indeed, Elder Travis is a living example of Philippians 4:13, "I can do all things through Christ which strengthens me".